Plantation shutters are considered to be a popular design option for homes but they are more than just a design option. They can do what curtains, blinds and drapes cannot do and can also add value to the house which is why a lot of people consider them as the best window treatment. Why choose these shutters over blinds and curtains? Well, there are quite a lot of practical reasons for doing this.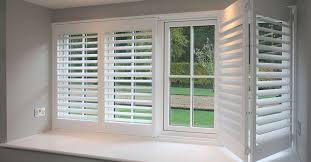 • Better view and control light- These shutters provide a profusion of light with an open view and privacy. Blinds, curtains and drapes usually don't offer an abundance of light, view and privacy and one has to compromise on something. The shutters not only provide light, view and privacy but they also add value and also make the house livable.
• Timeless and low in maintenance- They look timeless and don't need to be changed, they will look the same even after decades. Moreover, these shutters have a low maintenance cost and just need to be dusted occasionally. Even a quick wipe would also do.
• Durable and long- lasting- The interior-shutters are known for their durability. There is no need of replacing them and most of these shutters come with a warranty. Plus, these shutters would never become out-dated.
• Can be customised- The plantation shutters can be easily customised. From the colour to the configuration everything can be customized according to your need and preference.
• Safety assured- These shutters are safe for children as they do not have cords or strings attached to them unlike the blinds and the drapes. They are a safer alternative to curtains, blinds and drapes.
Good lighting, durability, safety and privacy are a few good enough reasons to choose the interior shutters for your home. Installing them can be expensive, but then it is a one-time investment.
January 3, 2019